Frequently Asked Questions
Is a concrete floor required for my building?
The answer is no.  Many steel buildings are built without a concrete floor, just a pier or a footer can be used.  A proper foundation is required so the building columns can attach to the anchor bolts, but other than that, a full concrete slab is not required to anchor the building to the ground.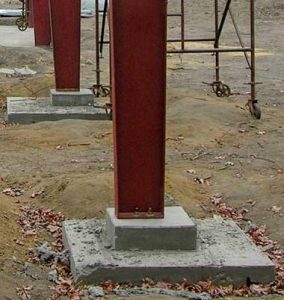 If I want to add on to the length of my steel building in the future, can I do that?
The answer is yes you can.  You can discuss this with your project manager, and it is simple to do.  If you want to be able to add on, or make your building longer in length, you will need to make sure your gable end walls are full loaded rigid frames, aka, I-BEAMS
Can I add drywall or another type of interior finish to my building?
Yes, you sure can.  Again, this needs to be discussed in the design stage because there are some adjustments that need to be made to the building for you to be able to attach anything to the interior of the building.  Your project manager will add drywall deflections and discuss with you about putting the girts 2' or 4' on center.   You can also use a stud wall made of steel or wood studs and place that within the wall or roof between the purlins or girts.  Be sure to discuss this with your project manager, but we can do it.
I want to erect my building myself. Will this void any of my warranties?
No, it will not void your warranties.  Our building kits are designed to be user friendly.  We provide you with an erection manual and offer 24/7 assistance through our 24/7 support line.  The only way the warranties would be voided is if structural modifications were made to the building, if building materials were damaged, and if the building and materials were stored improperly by the end user.  Your project manager can further discuss the erection process with you. 
How do I get my building delivered if the jobsite cannot accommodate a semi and trailer?
All of our buildings are delivered by a tractor-trailer.  The 80' tractor-trailer will need space to move around.  If you do not have the space needed, we will help you select an alternate offloading site.  If an alternate delivery site is selected, it will be the customer's responsibility to get the building to the jobsite.  Most of the time, an accessible location site for delivery can be found fairly close to the jobsite.
We want to heat and cool our building. Should we insulate it?
Yes, whether you are going to heat and cool or not, all steel buildings should have some type of insulation.  Insulating the steel building will prevent it from forming condensation on the inside of the wall and roof panels.  If you are heating and cooling it, the insulation will help keep the building a nice comfortable temperature.  Ask your project manager about our insulation options.  We have simple and cost-effective packages for your building.